Welcome to Papamoa Pines Medical Centres
Thank you for visiting our website, please feel free to browse and contact us for more information.
Call Domain Road on 07 542 2450 or Palm Springs on 07 281 1406
For after-hours care please call Accident and Healthcare on 07 577 0010
Please Call us BEFORE you visit, it may be possible to have a telephone consultation.
Two Locations
Domain Road & Palm Springs
Repeat Prescriptions
Order your repeat prescriptions here
Papamoa Pines are delighted to introduce our new Respiratory Pod
This new POD is located at the rear of our Domain Road medical centre.
In an attempt to protect our patient population, we are now seeing all respiratory patients in our new facility rather than bringing them into the main building at Domain Road. We have a new deck with disability access provided to make the POD user friendly to everyone.
We hope that this will help ease concerns around feeling happy to come in to see your doctor for your general medical concerns - these measures have been put in place to protect our staff as well as our patients - we hope you like it.
When ringing for an appointment, our receptionists will advise you where to go and what to do.
We would like to avoid having people with cold and flu-like symptoms in the waiting room increasing the risk of infection :-
This may mean using one of these options
1. Using telehealth to initially assess the patient and then if they need to be seen having them brought in at a specific time to the clinic with a mask to avoid the chance of spreading infection in the waiting room to vulnerable patients.
2. Offering telephone and video consultations for appropriate reviews and follow-ups for patients if they would prefer it.
We would recommend you review the following website https://www.healthnavigator.org.nz/telehealth/ which helps explain more about telehealth.
3. Having everyone who requires an on the day or urgent appointment triaged by phone to see if we can sort things out quicker and more conveniently.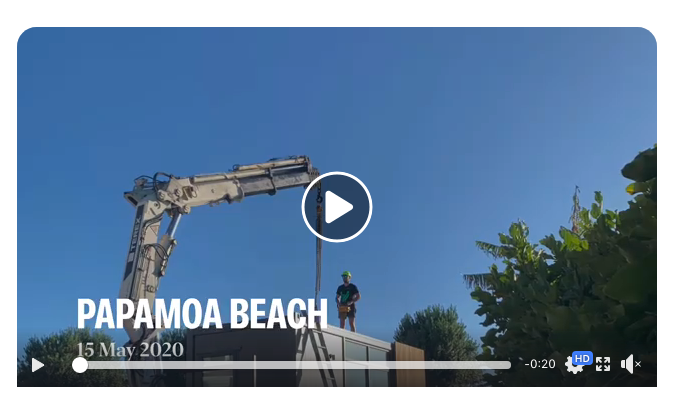 Other than for a proposed initial telephone consult for those with cold or flu symptoms, we would never deny a patient the opportunity of a face to face consult.
There is increasing evidence that many patient problems can be managed effectively over the phone without having to see someone in the clinic and we will begin to provide this service at a reduced consultation rate of $25 for for a quick telephone triage: - if your problem can be quickly solved by triage rather than an in person or telemedicine consult there is a reduced charge.
There are some symptoms and conditions which are not appropriate for telehealth. We are simply trying to improve your choice and make things easier to work into your busy lives.
We'd love to hear from you about these types of services and if you would be someone who is likely to use telehealth for some of your appointments?
Please send us your comments to admin@pappines.co.nz
Locally owned and operated
Introducing the owners and directors of Papamoa Pines Medical Centres - Dr Symon Roberton, Dr Natasha Roberton, Pamela Sheahan, Dr Davitt Sheahan (left to right)
We offer a wide range of services and are able to offer both routine appointments and also emergency or acute care. The doctors and staff in our practice are proud to provide caring and comprehensive professional family healthcare to all our patients.
We invite you to look through our website where you will find a wealth of information about our staff and the services that we provide. We welcome your feedback and look forward to welcoming you to our practice.
Click below to find out more about us.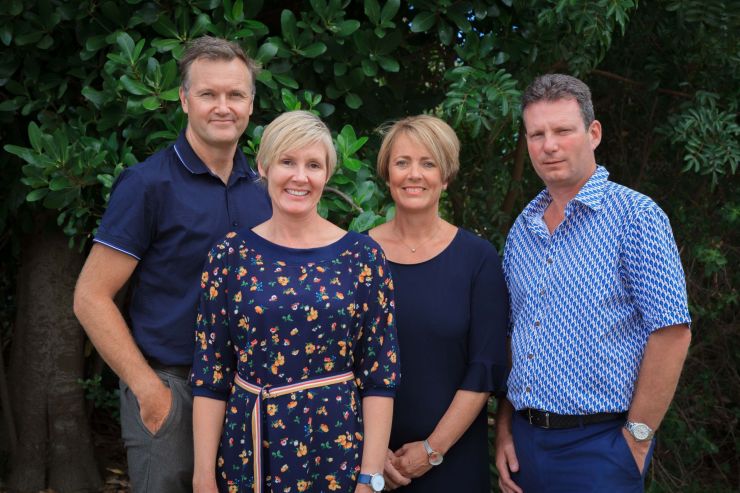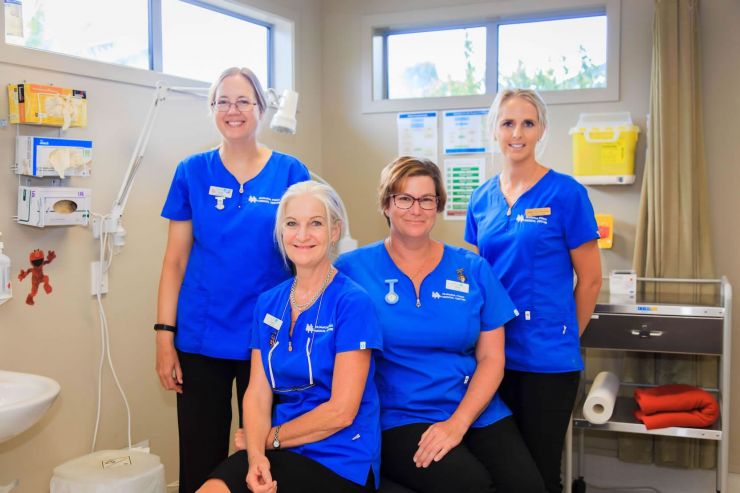 We have a great team at Papamoa Pines Medical Centres
Actually, we have several great teams at Papamoa Pines.
When you visit one of the Papamoa Pines Medical Centres, at either Domain Road or Palm Springs, you will be professionally greeted by one of our Reception team.
From there you will meet one of our GPs, Nurses or Management team, to find out more about our team before your visit please click through the button below to view our team page.
Whether you prefer to use Facebook or regularly visit our website, you can always stay in touch with Papamoa Pines.
If you prefer to stay on our website to get hold of the latest information just click below to visit our latest news section.
Here's a preview of our Facebook page.
Have a look and see what's going on and don't forget to pass the message on to your friends.
Please be aware there may be some comments on Facebook that are not posted by, and do not reflect the views, of Papamoa Pines Medical Centres.
If there is a medical issue about which you would like more information please feel free to ask on our Contact Us page.